"New York's Horse Soldiers, 1840-1940", a new exhibition opening at the New York State Military Museum on July 5, traces the history and evolution of New York State's cavalry units from the militia era in the decades before the Civil War through the beginning of World War II when mechanized vehicles replaced horses.  The exhibition features a variety of uniforms and cavalry equipment including a Squadron A Enlisted Man's Full Dress Coat with Baldric, 1910; a Model 1904 McClellan Saddle, 1918; and a Remington Rolling Block Carbine, New York State Contract, 1873. 
Although New York State's organized militia included numerous cavalry companies and regiments since at least the 1810's, the cavalry arm lacked sufficient supplies, effective leadership, and professionalism until the late 1880s. When Troop A, Cavalry joined the New York National Guard in 1889, New York's horse soldiers started to achieve the respect and recognition afforded the traditional foot soldier. Subsequent growth established a new era for the New York horse soldier that would propel New York's National Guard well into the 20th century. 
In the first half of the 19th century, New York State's volunteer militia steadily grew as numerous companies and regiments, including cavalry units, formed across the state. Deceivingly, these regiments were largely skeletal units or loosely organized "paper" regiments. Beginning in the mid-1850s infantry regiments were permitted to add two flank companies of cavalry. At the cusp of the Civil War, the New York State Militia included nearly 1600 cavalrymen in over 35 cavalry flank companies plus two New York City-based cavalry regiments. 
During the Civil War, New York State Militia cavalrymen and over two dozen new volunteer cavalry regiments contributed approximately 50,000 horse soldiers to the Union cause. State militia cavalrymen from the 1st Cavalry and 3rd Cavalry served briefly in 1861 and again during the deadly 1863 Draft Riot in New York City. 
Beginning in 1868, New York State's Adjutant General initiated a systematic restructuring. In 1885 a small group of New York City gentlemen formed a private cavalry organization called the "First New York Hussars" and later the "New York Dragoons." The group's popularity and seriousness quickly grew. On April 2, 1889, the organization officially mustered in the New York State National Guard as Troop A, Cavalry.   Fresh from its highly commendable service during the Brooklyn Trolley Strike in 1895, Troop A continued to grow and received a new designation, Squadron A, in February 1895. Squadron A's popularity and success spurred interested horsemen in neighboring Brooklyn to form a mounted troop, Troop C, Cavalry (officially organized in December 1895.)   
 New York's cavalry volunteers during the Spanish American War included one troop, designated as Troop A, Cavalry, New York Volunteers, with 105 volunteers and three officers from Squadron A. The second troop, designated as Troop C, Cavalry, New York Volunteers, included volunteers from the Brooklyn-based Troop C, Cavalry. During the brief war, the horse soldiers in Troops A and C, Cavalry, New York Volunteers served in Puerto Rico where Troop C engaged in several skirmishes with Spanish troops. 
After the Spanish American War, in Albany, Troop B, Cavalry organized and mustered into service in January 1902. In Syracuse, Troop D, Cavalry mustered into service in April 1904. In Brooklyn, Troop C, Cavalry expanded into a squadron, Squadron C, to include two troops in December 1904 and another two troops added in 1908. Even Squadron A grew in size with another troop added in May 1907. 
Growth led to consolidation as the 1st Cavalry organized in late December 1911 to merge New York's Squadron A and Brooklyn's Squadron C with a new squadron, organized September 11, 1911, known as the Third Squadron. Headquartered in Albany, the Third Squadron included only two troops, Albany's Troop B and Syracuse's Troop D.  Additionally, in 1912 six new cavalry troops organized. Four troops joined the 1st Cavalry: Troop L, based in New York City (immediately re-designated as Troop C); Troop M, based in Brooklyn; Troop H, from Rochester; and Troop I, from Buffalo. The remaining two new troops, Troop F, from Staten Island, and Troop G, from Utica, joined a newly created cavalry regiment, the 2nd Cavalry, organized in March 1912, with five troops pulled from the 1st Cavalry.  Ultimately by mid-1914 the New York National Guard included one full cavalry regiment, the 1st Cavalry, plus one squadron, Squadron A, and one Machine Gun Cavalry troop, a company of machine gunners attached to division headquarters in New York City.
 In June 1916, New York National Guard cavalrymen responded to President Woodrow Wilson's call to arms along the Mexican Border. New York supplied a full division known as the New York Division or, more officially, the 6th Division. The division included over 1200 cavalry troops from the 1st Cavalry (959 officers and men), Squadron A (219), and the Machine Gun Troop, Cavalry (65).  
 When the United States joined World War I in July 1917, the deadly European war had already raged for nearly three years. The tactics and technology witnessed during the war's first three years, specifically trench warfare and the use of new advanced weaponry like machine guns, heavy artillery, and tanks, rendered traditional horse soldiers obsolete. Consequently, when the New York National Guard's old New York Division, or 6th Division, mustered into federal service as the 27th Division, the division's cavalry units dismounted and served in the 104th, 105th, or 106th Machine Gun Battalions or the 102nd Trench Mortar Battery.
 Shortly after World War I, the 27th Division returned home to New York and the former horsemen from the old 1st Cavalry reorganized and reequipped for cavalry duty and consolidated with upstate units to form the 101st Cavalry in December 1920. Squadron A, New York National Guard reformed as the 51st Machine Gun Squadron in December 1921. The machine gunners eventually reorganized as the 2nd Squadron, 101st Cavalry in 1928.  Growth necessitated another cavalry regiment to complement the existing 101st Cavalry and to consolidate the additional cavalry troops then located in Albany, Utica, Syracuse, and Geneseo. The new regiment, designated as the 121st Cavalry in 1928 with Headquarters in Rochester, included these smaller cavalry troops plus personnel from the 2nd Squadron, 101st Cavalry.   
In 1940-41, as the United States kept a watchful eye on the raging war in Europe and the Far East, the War Department evaluated the National Guard's and Army's preparedness for modern warfare and concluded that traditional horse cavalry was not essential. Consequently, New York's 101st and 121st Cavalry regiments received new designations and assignments as Mechanized Cavalry, Reconnaissance Squadrons, Antitank Battalions, and as a Coast Artillery regiment. These conversions effectively ended New York State's short-lived yet important era as home to the nation's premiere horse soldiers. 
rjk-7/3/17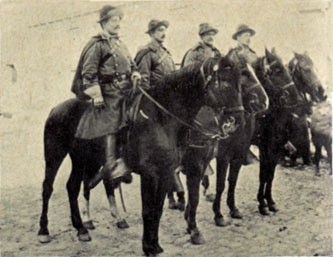 Horsemen from Troop A, New York National Guard, Brooklyn Trolley Strike, 1895.
Troop A - Cavalry, New York Volunteers, Camp Alger, Virginia, May-July, 1898.